Commanders' Notes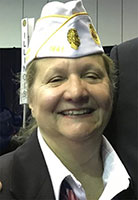 From the desk of Commander Callaways... There are many post activities and the Veterans' Days celebrations that have been planned as we enter the middle of Autumn. Those activities are a mix of traditional and virtual. Well done to those Post Commanders that have continued to make it happen at your post! Department training came to you last month and continued with conference calls to reach the Districts. The feedback was from all the training and conference calls have for the most part have been encouraging. Additionally, National is hosting training for all leaders in the legion. You should have of received several emails regarding the training on Tuesday and it is hopeful you are taking advantage of "Training Tuesdays"!
Legion programs, buddy checks and membership are key to continuing to grow and/or sustaining your Legion Post. Districts are encouraged, as discussed on the Department conference call, to schedule revitalization soon! If you are at home, it is time to get on the phone. Reach out to your members and 2019 list. (One has to connect to make it count.) Posts should be reaching (or exceeding) the Department Goal of 75 percent by Veterans Day. Those that are already there, thank you for your due diligence.
To provide some relief during these challenging times, financial grants are now available for eligible American Legion posts. The American Legion National Executive Committee approved Resolution No. 36 Oct. 14, during its annual Fall Meeting. Funds for the approved grants will be provided through The American Legion National Emergency Fund (NEF). Resolution No. 36, Mission Blue Post Assistance Program, will provide $1,000 grants to posts that are in good standing with their respective department. These funds must be used exclusively to pay current or past due rent, mortgage, utilities, and insurance. The Mission Blue Post Assistance Program grant application will be a fillable PDF. American Legion posts applying for a grant will be required to first submit the completed application to their respective department. This application procedure is the same as the NEF. American Legion posts have until Dec. 31, 2021, to apply for an Operation Blue PAP grant.
Lastly, next Division meeting is November 4th at Broadview-Hillside, 4941 Butterfield Rd, Hillside, IL 60162. Wishing you an amazing Veterans Day and happy Thanksgiving! For God, Family and Country, Warm Regards Gigi