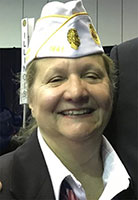 From the desk of Commander Callaways... It's time for turning a new left as we enter Autumn. Many are seeing the changes and they are for the positive! Fighting First is our motto, let us start strong this year and live up to it.
Everyone of us can continue to make American Legion viable by inviting veterans to be part of the best (and largest) veterans' organization in the world! There is a fitting statement which I use often. "If you invite no one, no one will come". Get them in the door by inviting them in or "Just Ask". Continue to use the "Buddy Check". Those districts that are making it happen are apparent by their membership numbers that are showing results, Great Job!!!
Get to know the Legion programs. Folks are trying to create programs (or similar programs) when we already have them in place. Suggestion for all legionnaires is that they begin knowing the legion. "Basic Training" is the American Legion's official training program for officers, members, Legion College applicants and those who simply want to expand their knowledge of the nation's largest veterans service organization is now available online.
Education Institute The American Legion ( https://www.legion.org/alei) If you have already taken the old course; log onto The American Legion Extension Institute. This has been rewritten, updated, streamlined, and enhanced with videos, digital photos, clickable links, a historical timeline, and additional features.
Take a blue cap under your wing and let us, as leaders, mentor them. Invite all post members to District and Division meetings. It has been proven that those that are involve have an investment in the Legion and remain members for many years. There are some exciting events, use one or more as an extension of your Post or District. The door is open and you are invited.
If you are in a leadership role; let us begin with bringing up the posts that are already behind in membership. (A few posts have turned in "zero" cards while others are at 100 percent.) We are only as strong as our weakest link.
Semper Fortis For God, Family, Country. Warm Regards Gigi